Countertops in Fleming Island, FL
Looking for a new countertop for your Fleming Island kitchen or bathroom renovation? Look no further than Flooring America of North Florida for all your countertop needs. We carry a variety of countertop selections including natural stone, granite, quartz, marble, and more. Our job is to ensure your project is a success, and that's why we proudly offer countertop installations with our professional Fleming Island contractors. When you're ready to give your kitchen or bathrooms a much-needed makeover, rely on us to deliver your dream counters! Visit our Fleming Island, FL, showroom today to browse our countertop selections!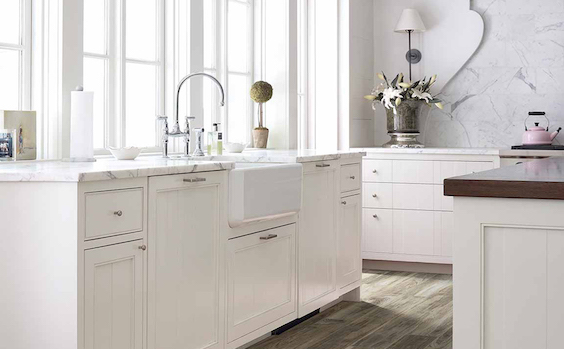 Types of Countertops Available at Our Local Store
As the Clay County area's leading supplier of countertops, you are sure to find the perfect selection for your home at our showroom. Our stone countertops bring a variety of advantages, attributes, and unique styles. Learn more about the different types of countertops available at our Fleming Island showroom:
Granite: This naturally durable stone countertop is heat-resistant, waterproof, and undeniably beautiful. Granite complements a variety of interior designs, and each slab is unique.
Marble: A classically appealing natural stone, marble countertops bring effortless elegance to any room.
Quartz: An engineered stone countertop, quartz is composed of quartz, resins, polymers, and pigments for reliable durability and a granite-like appearance.
How to Choose Which Countertop Is Best for You
Shopping for countertops can be overwhelming with so many gorgeous varieties. When you shop with us, you'll enjoy a stress-free experience, as we guide you through every step of the process. We know the ins and outs of each countertop product we offer, and will direct you towards the best fit in terms of performance, price, and style. Trust our team to truly listen to your desires and make your project a lasting success. Depending on your current cabinetry, flooring, interior design, and overall layout, consider the following factors when choosing a new countertop product:
Interior Design
Required Workspace
Spacial Flow
Amount of Daily Use
Structure
Functionality
Countertop FAQs
When considering a countertop remodel, it is easy to get lost in the variety of countertop styles and varying information. Flooring America of North Florida is here to answer some of our Fleming Island customers' frequently asked questions:
What is the Most Popular Style of Countertops in Florida?
Stone countertops continue to remain a popular Floridian style due to their timeless elegance and lasting durability. Sought-after countertop styles include classic granite, sophisticated marble, and sturdy quartz. Get a bright airy look in your open-concept kitchen or any interior design you desire at our local countertop store.
What Countertops Are Easy to Maintain?
We understand your busy lifestyle does not leave room for constant maintenance and worry about your countertops. That's why we offer industry-leading countertop products from trusted manufacturers. Our countertops are cut and engineered to enhance durability, making cleaning and maintenance a breeze.
What Type of Countertop Lasts the Longest?
All of our products are built to last, with granite and quartz being known for their exceptional durability, even with heavy use. Additionally, granite is known for its natural resistance to heat.
Countertop Installations with Our Fleming Island Contractors
Trust Flooring America of North Florida with your countertop installation. Our experienced Fleming Island installers offer a swift and efficient installation at a time convenient for you. We come prepared with the necessary skills and professional tools for a precise fit that looks great and lasts. With your peace of mind as our priority, we offer exceptional communication throughout the process from start to finish. Should you have any questions or concerns at any time, give us a call and we will be happy to assist with all your countertop needs. Ready to transform your kitchen or bathroom with a countertop remodel?
Contact us today to start your countertop renovation and browse our countertop selections! We proudly serve Fleming Island, Florida, and the surrounding communities.