The Best Tile Selection in Fleming Island
Tile flooring is durable, easy to clean, and, most importantly, water-repellent. At Flooring America of North Florida, we offer one of the best tile flooring selections in the area. From decorative ceramic tile backsplashes to classic porcelain floors, you'll find an option for every budget, style, and performance need when you shop with us. When you visit our showroom in Fleming Island, FL, you'll have the chance to work with our knowledgeable sales and design professionals. Our team can help you find the best tile product for your home. They are experts with the experience to assist you in making choices you'll be happy with for many years. They'll answer all your questions about brands, benefits, color, and style. Stop by today to get started on your flooring upgrade!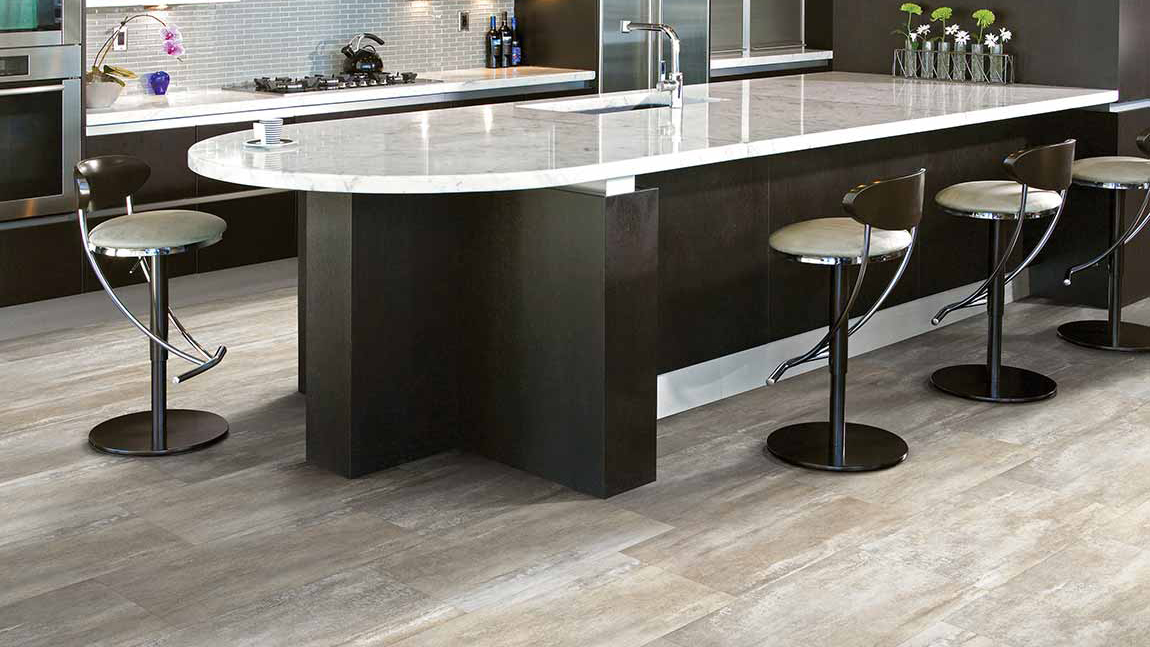 Our Tile Selection
We have three main tile options from the best brands in the industry to choose from: ceramic, porcelain, stone, and innovative wood-look tile. Learn more about each type:
Ceramic tile

is made of clays that are fired extra hot. This glazed tile is easy to clean, durable, and can mimic natural wood and stone. Consider a textured ceramic tile if you have pets or kids. There are endless patterns and finishes to consider.

Porcelain tile

is a denser variety of ceramic. Because of its enduring strength, porcelain is famous in commercial settings and bathrooms. It resists significant moisture and comes in endless styles. Choose porcelain tile that mimics hardwood or washed cement; trendy patterns are available.

Stone tile

is made from organic minerals like granite and marble. It's perfect for kitchens, bathrooms, entryways, and outdoor paces. No two stones are alike, so choosing stone tile means your new installation will be distinctively yours. Stone tile adds value to your home and will last for generations.

Wood-look tile

is made from porcelain or ceramic tile that looks like hardwood. It comes in planks and is textured to look like natural wood. It is stronger and more durable than genuine hardwood. It is resistant to scratching, dents, and stains. It can be installed in any room in your home and in moisture-prone areas.
Benefits of Tile
There are many advantages to choosing tile. Tiles are beautiful and durable, giving you the best of both worlds. Learn more about tile's many benefits:
Tile is

highly resilient

regarding staining and everyday wear and tear, making it perfect for placement in high-traffic areas.

Tile doesn't need much for upkeep because of its durability, making it

easily maintained

.

Tile is very

cost-effective

and can fit into nearly any budget!

Tile is

water-resistant

, which is why it is so popular in moisture-prone rooms.

Tile flooring can help

improve the air quality

in your home since they do not hold onto allergens as other flooring types can.

Tile is

long-lasting

and can last for decades, even the entire life of your home if cared for properly.

Installing tiles can also help

improve the value of your home

.
How Do I Keep My Tile Floors Clean?
Keeping your tile clean is super easy! Tile flooring is one of the most durable compared to other flooring types. With proper care, your new tile floors will look new for years. Caring for tile flooring is easy, so you do not have to worry about long-term maintenance. To keep your tile looking pristine, all you have to do is:
Choose a cleaning product that fits into your new floor's warranty, keeping in mind if your tile has a glazed finish or not.

Regularly sweep or vacuum to remove excess dirt and debris.

Mop weekly.

Durable Waterproof Tile
When you think about waterproof flooring, you likely start thinking of tile. After all, one of the tile's best qualities it's waterproof, which lets it be installed below and above ground level. Waterproof floors are stronger and can withstand liquid spills and bigger accidents such as flooding. Since tile can withstand high amounts of moisture, you can rest assured that your new tile floors will not be compromised in moisture-prone areas such as basements, entryways, bathrooms, laundry rooms, and kitchens.
Professional Tile Flooring Installation
Tile flooring can be tricky to install, so ensure you protect your investment with tile flooring installation by our skilled professionals. We make sure your gorgeous new tile floors are level, structurally sound, and properly sealed to maximize moisture resistance. With proper installation from our specialists, your floors will look and function great for many years. We promise to utilize the latest methods and demonstrate high-quality workmanship. Should you have any concerns, our professionals will make it right at no additional expense. This is our Ultimate Confidence Guarantee.


Contact us to learn more about our services and tile flooring selection. We proudly serve customers in Fleming Island, FL, and the surrounding communities